Fire Damages Historic Hotel Jeffery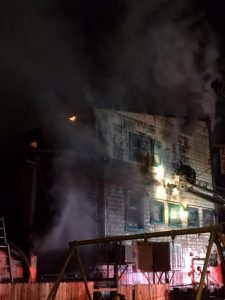 Fire at Hotel Jeffery

View Photos
Coulterville, CA — Fire has caused extensive damage to a historic hotel in Coulterville.
Crews responded to the Hotel Jeffery at around 1:30am, and CAL Fire reports several resources are still on scene this morning mopping up the flames. The cause of the fire is under investigation. No injuries were reported. It's not immediately clear if the hotel is a total loss, but CAL Fire officials indicate the damage appears extensive.
The Hotel Jeffery was built in 1851 as a way to aid stage coach passengers on their way to Yosemite. It has entertained several notable guests over the years, including Teddy Roosevelt, John Muir and Mark Twain. It has one of the oldest operating saloons in California.