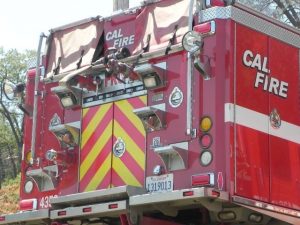 Cal Fire Truck

View Photos
Murphys, CA — Firefighters have contained a house fire in Murphys on the 1500 block of Coyote Drive near Nugget Drive.  Investigators remain on the scene trying to determine exactly what sparked the blaze.  Cal fire says the flames broke out in an oven and spread into a wall behind some cabinets in the three-story home.
"I don't know if anyone was home when the fire started," says Cal Fire spokesperson Lisa Williams.  "I don't know the damage, but investigators are looking into a cause."
Williams says she does not know whether it was a suspicious fire.  The fire started around 1:15 p.m. and did not spread to any other part of the home.