Mixed Bag Of Ballot Measures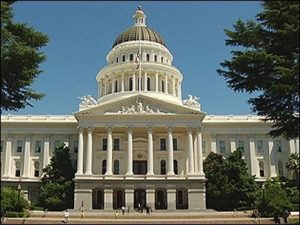 California Statehouse

View Photos
Sacramento, CA — A new Field Poll finds that likely voters support the $7.5 billion water bond and reducing criminal sentences for some offenders, but oppose ballot measures requiring drug tests for doctors, and giving the State Insurance Commissioner more power in overseeing rates.
They are some of the hot-button ballot measures that will be decided next Tuesday. The poll finds that 54% approve of the Proposition 1 water bond, 22% are opposed and 24% are undecided.
Only 30% approve of Proposition 45, allowing the Insurance Commissioner more power to oversee rates. Meanwhile, 42% are opposed and 28% are undecided.
32% support Proposition 46, calling for drug testing of doctors and an increase in the cap for medical negligence lawsuits, 49% are opposed to the measure and 19% are undecided.
51% support Proposition 47 related to decreasing the legal severity of certain crimes, 23% of voters are opposed to the idea, and 26% are undecided.