Winter Storm Warning Issued For Sierra Nevada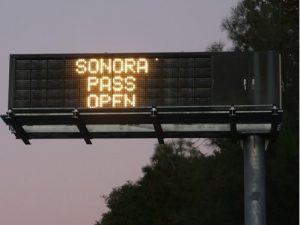 Sonora Pass Sign

View Photos
The National Weather Service has issued a Winter Storm Warning from 5 PM Friday to 2 PM Saturday for the Sierra Nevada above 6000 feet.
Four to fifteen inches of snow accumulation is anticipated above 6000 feet.
Winds of fifteen to thirty mph are expected with gusts up to forty mph.
This is the first significant snow of the season. The weather will transition from warm and dry to cold and snowy very quickly on Friday afternoon. Anyone with outdoor plans in the mountains should plan ahead for adverse weather conditions. This may include delaying or canceling travel plans.
Chain restrictions are probable. Reduced visibility during heavier snow will make driving hazardous.
A Winter Storm Warning means severe winter weather conditions are expected or occurring. Significant amounts of snow are forecast that will make travel dangerous. If you must travel, keep an extra flashlight, food and water in your vehicle in case of an emergency.