Human Remains Found At New Melones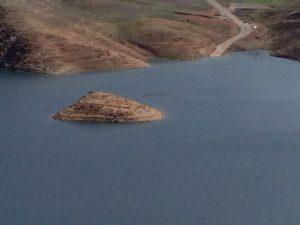 New Melones low water levels

View Photos
A decomposed body was located by a person walking their dog near the Tuttletown Launch Ramp.
The individual notified the Bureau of Reclamation at 9:30 this morning, and the Tuolumne County Sheriff's Office soon sent its Coroners Unit and Patrol Deputies.
Sheriff's Office Spokesperson, Sgt. Scott Johnson says, "Based on the level of decomposition, the body appears to have been in the water for well over a year. Due to the level of decomposition, the gender of the deceased could not be determined at this time. The human remains were recovered, and will be taken to a pathologist who will complete a forensic investigation in an effort to identify the deceased, obtain any information as to the cause of death, and the length of time the body has been in the water."
The Sheriff's Office does not have any indication, at this time, regarding who the deceased individual is, and plans to look into unsolved missing person cases, and past boating accidents.
The body was partially submerged in the water when it was located.