Wanted Man Arrested In Shooting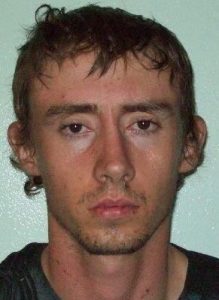 Kristopher James Randi

View Photos
Jamestown, CA – Tuolumne County investigators remain on the scene this morning sorting out all the details of an incident that involved a burglary and shooting, followed by a search for a wanted man that resulted in additional arrests of four other people, who allegedly tried to hide the suspect.
Sheriff's investigators say that 23-year-old Kristopher Randi was arrested after being sniffed out by a K-9 unit in a Jamestown home. As reported earlier this month, deputies were already on the lookout for Randi, who was wanted on several drug warrants.
The incident unfolded last night when sheriff's deputies were called to a home on the 18000 Block of Seco Street in Jamestown around 6:25 p.m. for a report of a homeowner who had just "shot a burglar."
Once on the scene, the male homeowner told deputies he had shot a male intruder who "ran at" him when confronted. The owner says he shot the the intruder in the leg and the man ran out of the home. The homeowner told deputies he had the gun because of a previous burglary on his property.
Deputies began to search the area near the home and received information that the suspect may be Randi. That led deputies to a home on the 18000 block of 5th Ave in Jamestown, where residents denied Randi was in the home, but according to detectives, agreed to a search of the house. Deputies brought in the K-9 dog, Justice, who found Randi hiding. Investigators say Randi resisted arrest and was bitten by Justice.
Randi was taken to a local hospital for a gunshot wound to his leg and a dog bite to his lower leg. As of 9:00 a.m. this morning, he is still being treated for his injuries. Upon his release from the hospital, detectives say he will charged with felony burglary.
Deputies also arrested the four people in the 5th Avenue home. They are 24-year-old Ashland Hall, 56-year-old Christine Lindsay and 22-year-old Andrea Ybarra, all of Jamestown, and 45-year-old Robert Ybarra, Jr,. of Sonora. All have been charged with felony Accessory After the Fact. Bail has been set at $10,000 for each of them.  Investigators say Randi is not related to any the other suspects.
The investigation is ongoing.