Fire Destroys Sonora Home: No One Injured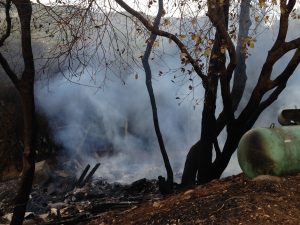 Fire Destroys Sonora Home

View Photos
Sonora, CA — Officials are investigating a fire that destroyed a home, and damaged two others in Sonora.
The fire started at around midnight at 551 East Bald Mountain Road.
"The first unit on scene confirmed that the home was fully involved, with a venting propane tank," says City of Sonora Fire Chief Mike Noonan. The fire extended to vegetation and went on to damage homes on both sides of the initial structure.
Noonan adds, "We have one structure a total loss, there was extension and significant damage to a second structure, and the third structure, on the north side, had some blistering to the paint, and damage to the staircase and a deck."
Chief Noonan says they are still investigating exactly how the fire ignited, but there is nothing to indicate it was "suspicious in nature."
There were no injuries, and Chief Noonan says thankfully there was no one inside the home that was a total loss, when the fire ignited.