Hospice Of Amador & Calaveras Fundraiser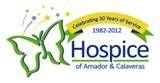 Hospice of Amador & Calaveras

View Photos
The Hospice of Amador and Calaveras will hold a major fundraiser this Saturday at the Black Bart Theater in Murphys.
Dan Riordan, Executive Director, was Thursday's KVML "Newsmaker of the Day."
The show, "Calaveras Live," begins at 6:30 p.m. with a wine reception and hors d'oevres provided by the historic Murphys Hotel. Entertainment follows with music, comedy and a memorial  tribute to those who have died.
People who want to feature a loved one in a tribute video should send pictures to hospice through the website at www.hospiceofcalaveras.org.
Tickets cost $45 in advance and can be obtained by calling hospice at (209) 233-5500 or by going online to www.hospiceofcalaveras.org. As of Thursday morning, there were less than twenty tickets left.
Hospice is a concept of care that treats the person, not the disease, and emphasizes quality of life, not the duration.
Since 1982, Hospice of Amador and Calaveras has been working to meet the needs of those nearing the end of their lives. Hospice care neither hastens nor postpones death but exists in the hope and belief that through appropriate care, patients with life-limiting illnesses may live their remaining days pain-free and with dignity, and their families may accept and find their own new beginnings.
Hospice of Amador and Calaveras provides the treatment and care necessary for physical, emotional and spiritual well-being, either at home, or in a board-and-care or skilled-nursing facility. The services they offer are covered by most private insurance plans, Medicare and MediCal, but they will accept patients regardless of their ability to pay.
Hospice of Amador & Calaveras is a non-profit organization, and your gift is tax-deductible.
The "Newsmaker of the Day" is heard every weekday morning on AM 1450 KVML at 6:45, 7:45 and 8:45 AM.