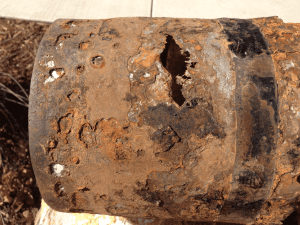 A past leak in the same pipe that is now leaking in Arnold

View Photos
Arnold, CA — A 12 –inch main water pipe has sprung a leak in downtown Arnold, affecting nearly 500 customers along Highway 4.
Calaveras County Water District (CCWD) officials say that they were alerted to water gushing out of the pipe at noon today, and as of 2 p.m., water to the line has been shut off so that crews can work to repair the pipe, which could take 6 to 8 hours.
CCWD spokesperson Joel Metzger says, "We've had many reports of leaks in this pipe over the last few years and it's getting past its usefulness. It was installed in the 1960's. Today, we will just replace a small section of the pipe."  However, Metzger adds a total pipe replacement has been scheduled for this line in the District's Capital Renovation and Replacement Program.
Much of downtown Arnold will be without water service until the repair is complete, says Metzger, which includes the Mill Woods, Lilac Park, Cedar Center, portions of Pine Drive, Linebaugh Road, Blagen Road, and Dunbar Road.