A Historic Landmark's Added Distinctions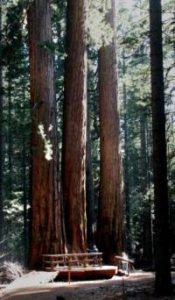 Giant trees tower above visitors to Yosemite National Park Joseph Kreiss - 03-03-2003

View Photos
Yosemite, CA – Several Yosemite National Park sites have been given historic designation. 
Fourteen properties in the park have been added to the National Register of Historic Places.  The registry is a list of  the nation's historic places deemed worthy of preservation.
"These buildings are essentially recognized for the importance they hold in history," says Ranger Kari Cobb.
In order to be listed, properties must have significance in American history, architecture, archeology, engineering, or culture.  The park properties that have made the registry include some High Sierra camps and other wilderness cabins.  Once on the list, it is the Park's duty to maintain the buildings.
Cobb says, "It provides us a standard for making sure that these buildings stay the way they are.  By putting them on the list, we are essentially committing to making sure these buildings don't go into disarray.  It also means if we have to restore these buildings, we will keep that historic character."
Properties that make the registry must be at least 50 years or older.  Here is the Park's list of the fourteen properties:
The High Sierra camps: Glen Aulin, May Lake, Merced Lake, Sunrise, Tuolumne Meadows, and Vogelsang High Sierra Camps
Wilderness cabins: Buck Camp Patrol Cabin, Frog Creek Cabin, Lake Vernon Snow Survey Shelter, Sasche Springs Snow Survey Shelter, Merced Lake Ranger Station and Snow Survey Cabin, Ostrander Lake Ski Hut, and the Snow Flat Ranger Station and Snow Survey Cabin.
The park is also home to five National Historic Landmarks: The Ahwahnee Hotel, Le Conte Memorial Lodge, Parsons Memorial Lodge, the Rangers' Club, and the Wawona Hotel & Thomas Hill Studio District.
Click here for more information on the National Register of Historic Places.