New Hetch Hetchy Water Tunnel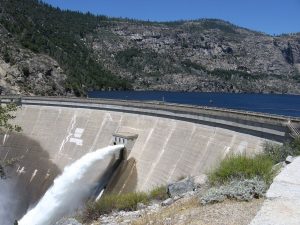 Hetch Hetchy Reservoir

View Photos
Tuolumne County, CA — The San Francisco Public Utilities Commission has completed construction of a $288 million water tunnel from Hetch Hetchy Reservoir to the Bay Area.
SPUC Spokesperson Charles Sheehan says the tunnel physically travels underneath the San Francisco Bay and over to the peninsula. The existing pipelines, built about 80 years ago, travel over a wooden trestle near the Dumbarton Bridge.
The pipes had been leaking in recent years, and were in need of a seismic upgrade.
Water will start flowing through the new tunnel later this morning.
The tunnel is a piece of an overall $4.6 billion project designed to improve the infrastructure of the Hetch Hetchy water system.  Hetch Hetchy supplies water to over two million customers. Funding came from a local voter approved bond measure in the Bay Area.
Sheehan says the old pipelines will be left in place for the time being, while a plan is developed regarding their future.