Lecture On Rim Fire Recovery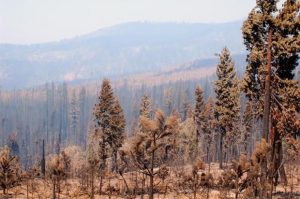 Rim Fire Burned Area

View Photos
The public is invited to learn about cooperative restoration efforts underway one year after the devastating Rim Fire this Thursday, when the Columbia College Foundation hosts the next installment of its community lecture series.
Stephanie Suess, President of the Columbia College Foundation and Dr. Tom Hoffstra, Professor and Program Coordinator of the Forestry & Natural Resources Program at Columbia College, was Wednesday's KVML "Newsmaker of the Day".
"Looking Forward: Rim Fire Recovery," will be a two-hour evening program beginning at 7 PM inside of the Sonora High School Auditorium, moderated by Hofstra, and will feature leading experts from the timber, ranching, environmental  groups and public agencies for wildlife and land management.
Leading the panel discussion will be Yosemite-Stanislaus Collaborative Co-Chairs, Mike Albrecht of Sierra Resource Management and John Buckley of the Central Sierra Environmental Resource Center.
The program is free. Doors will open at 6:30pm and the program will run from 7 until 9 PM.
In addition to Higgins, Albrecht and Buckley, other speakers include:
Nathan Graveline,  California Department of Fish and Wildlife
Mary Moore , USFS hydrologist and BAER (Burned Area Emergency Response) Team specialist
Matt McNicol, USDA Natural Resource Conservation Service, forest specialist
Tim Tate, Sierra Pacific Industries
Students from the Columbia College Forestry Club will also be assisting and plan to have a slide show and information on their activities and projects.
The speakers will focus on the Rim Fire's ongoing impacts and the efforts underway to find common ground and compromises, said Suess.
"The Rim Fire was the third largest forest fire in California's history and our community has so much at stake as we move forward," Suess said.  "We've heard a lot about policy setting and political posturing.  This is an opportunity for the community to hear from folks who are playing an active, on the ground role in the recovery efforts and to learn more about what they see as being the key issues in the years to come.  The Foundation is pleased to bring these leaders together for an educational evening."
For more information, visit www.gocolunbia.edu/foundation  or call (209) 588-5065.
The Columbia College Foundation is a community nonprofit established in 1972 to promote quality higher education that enriches the academic, economic, and cultural life of our community. Their mission is to promote student success by providing community resources that support and expand educational opportunities for Columbia College's students.
The KVML "Newsmaker of the Day" is heard every weekday morning on AM 1450 KVML at 6:45, 7:45 and 8:45 AM.