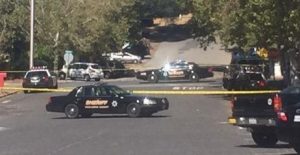 Tuolumne Fire Dept and Sheriff Cars

View Photos
Tuolumne City, CA —  Tuolumne County Sheriff's Officials say three bones that were found on a vacant property across from the Tuolumne City fire Station on Main Street are not human.  This afternoon deputies removed the bones from the lot, which has a vacant house upon it that has been boarded up.  Sgt. Scott Johnson originally stated the remains would be sent out for forensic testing, which could take weeks.
Johnson now says, "Detectives were able to find a local Pathologist who examined the bones for us more quickly than we could get them down to the Department of Justice; And the Pathologist identified the bones as baby deer."
Investigators were alerted to the bones by a callers tip.