NTSB: No Structural Failure In Tanker Crash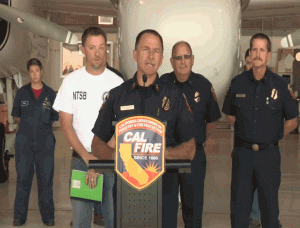 CAL Fire Chief Ken Pimlott Speaks At Press Conference

View Photos
The 22 CAL Fire S-2T tankers that were grounded after Tuesday's deadly crash, are now back in commission.
CAL Fire Chief Ken Pimlott announced this morning that the NTSB found "no structural failures, or aging aircraft issues," related to the crash. However, it still remains unclear what caused the crash. NTSB Spokesperson Josh Cawthra says the "on-scene" portion of the investigation has concluded. A preliminary report will be released within the next week. Once the fire is fully under control, the wreckage will be removed from the site, and the complete investigation will take anywhere from 6-12 months. The investigation will look into three aspects, "man, machine and the environment."
Cawthra noted that Pilot Geoffrey Craig Hunt was in the process of making his second drop on the fire, when the fatal crash occurred. After making his first drop, Hunt reloaded in Columbia, and was re-approaching the Dog Rock Fire when the accident happened.
Most of the CAL Fire air tankers are former military equipment that has been refurbished, and redesigned, for firefighting.