King Fire Contained: Local Benefit Planned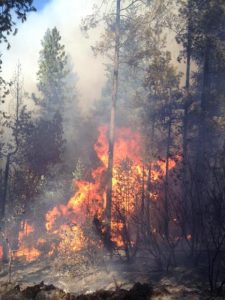 King Fire

View Photos
Pollock Pines, CA — The 97,717 acre King Fire is now 100% contained.
The fire was allegedly started by 37-year-old Wayne Huntsman on September 13. He has been charged with arson. It destroyed 12 homes and forced the evacuation of thousands. The fire was in the El Dorado National Forest, near Pollock Pines. This morning there are still 560 firefighters on scene, while at one point, there were around 8,000. Mop-up operations will continue until there is heavy rainfall.
Saturday evening there will be an outdoor benefit concert at a winery in Murphys to help those that were impacted by the King Fire. One of the organizers, Tasha Unninayar, says all proceeds of the $15 cover charge will benefit those that lost homes, were injured, or evacuated. It will feature the band Factor 11. It will begin at 7pm at the Vina Moda at 147 Main Street in Murphys.