Type 1 Team Leading Dog Rock Fire Response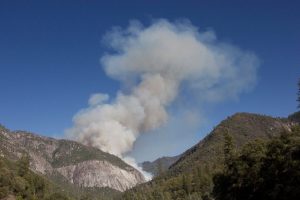 Dog Rock Fire

View Photos
Yosemite, CA — A Type 1 Incident Management Team is now leading the response to the Dog Rock Fire, which is around 250 acres, and 10 percent contained.
California Interagency Management Team 3 took over Incident Command duties at 6pm yesterday. The transition to a Type 1 team allows for higher priority to available firefighting resources. As of last night, there were 200 firefighters assigned to the incident. Highway 140 remains closed at the park line, and it is expected to be a couple of days before its re-opened. Electrical power is out in Yosemite Valley, due to active fire activity underneath power lines. Highways 41 and 120 remain open for visitors wanting go in or out of the park. There are evacuation orders still in effect for the community of Foresta. No other areas are under evacuation.
Flags continue to be flown at half-staff at the state capitol in honor of 62-year-old pilot Geoffrey "Craig" Hunt who died while fighting the blaze on Tuesday. An investigation into the crash is ongoing.