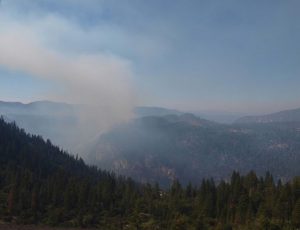 Dog Rock Fire

View Photos
Foresta, CA – The blaze is now 250 acres and there is still no containment on the flames burning in western Yosemite National Park.
Park officials cite the favorable weather conditions for the minimal fire growth today, which they say has helped air and ground crews make significant progress.
Air tanker Pilot Geoffrey "Craig" Hunt, 62 of San Jose was killed yesterday afternoon after his S-2T tankers crashed while fighting the flames.  Yosemite National Park Superintendent Don Neubacher offered his condolences.
"With great sadness, the Yosemite National Park community would like to express its deepest condolences to CAL FIRE for the loss of pilot, Geoffrey "Craig" Hunt.  Yesterday, Craig lost his life fighting the Dog Rock Fire," stated Neubacher.  "He died serving and protecting the public from wildland fire.  As members of the wildland firefighting community, we also mourn his loss and our thoughts are with his family and loved ones."
The National Transportation Safety Board (NTSB) has taken command of the crash investigation.
Evacuation orders are still in place for 60 homes in the Foresta community, but most of those homes are recreational.  Highway 140 remains closed at the Arch Rock Entrance Station, but Highway 120 and all other entrances into the park are open.
Cal Fire has grounded all air tankers like the one that crashed. However, U.S. Forest Service planes will still be used to battle the blaze.
Park officials say the United States Forest Service and the California Interagency Incident Management Team 3 are assisting the National Park Service.