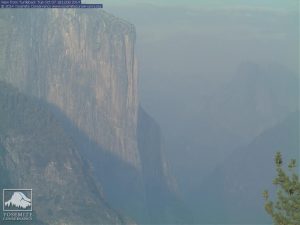 Yosemite Webcam - Smoke Visible

View Photos
Foresta, CA — The acreage has grown to 150 in the Dog Rock Fire near El Portal in the western region of Yosemite National Park with no containment this morning.
The flames broke out in the Foresta Community around 2:45 p.m. yesterday afternoon, Evacuation orders remain in effect for that area, which involves nearly 60 homes.  Ranger Kari Cobb says most of the homes are recreational and none have been damaged by the flames.
Cobb also says, "One good thing about the fire moving in the El Portal direction is that it is moving into the footprint of the El Portal fire, which was burning at the end of July.  As it moves that way it will hit the area that already has been burned so there isn't as much vegetation to burn."
Much of the Yosemite Valley has been without power since last night.  Park official hope to have the electricity restored later today.
Highway 140 at the Arch Rock entrance station is still closed to traffic, but Highway 120 and all other entrances are open.  Visitors will see smoke in the skies today over the park.  The cause of the fire is under investigation.