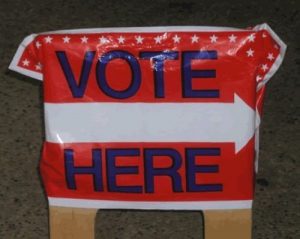 Election Sign

View Photos
Sonora, CA —  Tonight is your chance to learn more about where the candidates for T.U.D. and Tuolumne County Assessor-Recorder stand on important issues.
The Tuolumne County Chamber of Commerce will host its annual "Candidate's Night" This evening in the Tuolumne County Board of Supervisors meeting room. It will air live starting at 6pm on AM 1450 KVML. Questions will be asked by a panel including Margaret Davis of the Chamber's Governmental Affairs Council, Clarke Broadcasting News Director B.J. Hansen, and Union Democrat Editor Craig Cassidy.
Hoping to become the next Assessor-Recorder are candidates Mike Dambacher and Kaenan Whitman. Running for a two-year seat on the T.U.D. Board are Michael Cummings, David Evans, Darrell Ketner, Ron Kopf, and Jerry Morrow. Running for one of two four-year seats are David Axelrod, Patrick Congdon, Jim Grinnell, David Harris, Ron Ringen and Delbert Rotelli.
Chamber of Commerce Executive Director Mike Ayala says, "The objective is to find out where the candidates stand on the various issues that are relative to the position they are running for, and to inform the public."
Tonight's forum is open to the public. It will also be recorded and played back at a later date on Cable 8.