Mono Way Completed In Next Few Months?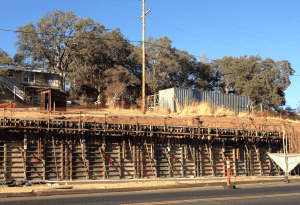 Mono Way Retaining Wall Construction

View Photos
Sonora, CA — When it comes to the Mono Way widening project, this week workers are focused on sidewalks, a retaining wall, and a culvert.
Sonora City Engineer Jerry Fuccillo says construction crews are working heavily this week on the sidewalk installation. There will also be a focus over the next few days on starting to pour the large retaining wall.
Traffic is moving pretty freely along Mono Way, however, that will change on Sunday evening. Notable delays can be expected that night and early Monday morning, from around 7pm – 7am.
"Sunday night there will be some work at the intersection of Fir Drive and Mono Way," says Fuccillo. "They have to bring a culvert diagonally across that intersection. It's too disruptive to do in the daytime, so they are going to do it at night."
Fuccillo says he is hoping the overall Mono Way project will completed by end of the year, noting that they will be working into December. Wet and cold weather, however, could potentially push the completion date into next year.