Cleaning Up Tons Of Trash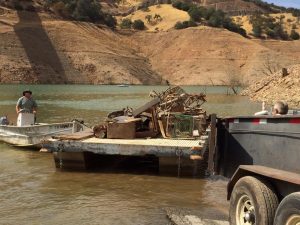 Cleaning Up New Melones

View Photos
55 tons of trash was removed during this past weekend's 6th annual Sierra River Cleanup.
The event was sponsored by the Sierra Nevada Conservancy, in partnership with 60 community organizations, at over 100 sites throughout the Sierra Nevada. The event drew 4,460 volunteers.
245 of the volunteers staked out across the Mokelumne River. "We found tons of weird stuff like a phone and phone recorder, a full ice chest of beer, and an old tractor plow," said Lora Sparrowk, of the East Bay Municipal Utility District. "It's like a treasure hunt. We never know what we are going to find."
Along the Mokelume River and Camanche Reservoir, volunteers collected 46 bags of items to be recycled and 78 bags of trash.
As part of the event, there was also a cleanup held at New Melones that was hosted by the Bureau of Reclamation, Tuolumne County Resource Conservation District, Tuolumne County Land Trust and UC Cooperative Extension. The photos in the upper left box are from that event.
The Sierra Nevada region provides more than 60% of California's developed water supply, and is the primary source of water flowing into the Delta.