Mother Lode Inundated With Smoke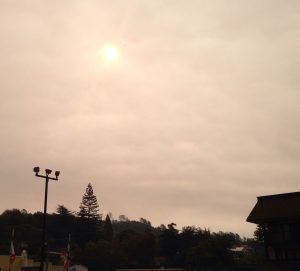 Smoke in Sonora

View Photos
CAL Fire has received several calls this morning asking if there is a fire in Tuolumne or Calaveras County.
Spokesperson Lisa Williams confirms that there are no fires in the Tuolumne-Calaveras area. "It is very smoky outside, and it is drift smoke, probably from the King Fire and the Irene Fire, which are both located in the El Dorado National Forest."
The King Fire, northeast of Pollock Pines, is 76,376 acres, and it is 10% contained. The Irene Fire is 85 acres and 35% contained. CAL Fire reports, as of this morning, there are around 10 notable fires burning throughout northern California.