House Fire Starts In Attic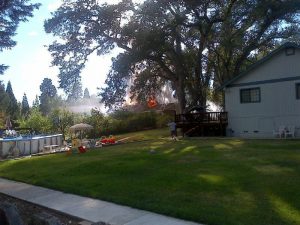 House Fire Hyde Street

View Photos
Belleview Oaks, CA — Firefighters make quick work of a house fire in the Belleview Oaks area, which is between the Phoenix Lake Golf Course and the Crystal Falls area. The flames broke out at around 4:20 this afternoon on the 21,700 block of Hyde Street near Acorn Drive.
Cal Fire Battalion Chief Barry Rudolph says, "Firefighters arrived to find a fully involved attic. The house had been occupied at the time with a Mother and her children. They were able to get out safely. Firefighters knocked down the fire and we're in the process of salvage and overhaul."
The Red Cross has been called in to assist the family. What sparked the blaze is still under investigation. The fire was contained to the attic.
A special thanks to our community news partner Ford Garrett for sending in a photos.