Former Republican Governor Makes Endorsement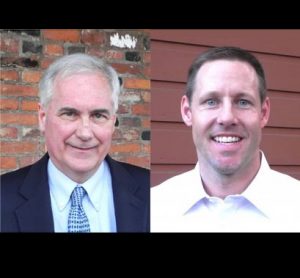 Tom Mcclintock and Art Moore

View Photos
Sonora, CA — California's former Governor Pete Wilson is weighing in on the local Congressional race that pairs up incumbent Tom McClintock and challenger Art Moore.
Wilson has decided to endorse the challenger, Moore.
"Art Moore is the kind of strong young leader we need to shape the future of the Republican Party and, more important, the future of the nation," reads a prepared statement from Wilson, who served as California's Governor from 1991 to 1999.
Both McClintock and Moore are Republicans. McClintock was easily the top-vote-getter in the June primary with 55% of the vote, compared to Moore's 22%.
As reported previously, McClintock has a much heavier list of endorsements than Moore, including the California Republican Party, Howard Jarvis Taxpayers Association, U.S. Chamber of Commerce, and most county Republican Party organizations in the 4th Congressional District.
Meanwhile, Moore picked up the endorsement of former Congressman George Radanovich prior to the primary election.
The General Election is coming up November 4th.