Logging Injunction Denied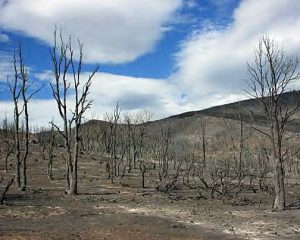 Rim Fire burned trees

View Photos
Sonora, CA –A Federal Judge in Fresno has denied a temporary restraining order regarding the lawsuit filed against the Rim Fire Recovery Record of Decision.
Forest Service Spokesperson Wyn Hornbuckle says, "We are pleased with the court's decision." He would not comment further.
As reported earlier this month, three environmental groups including the Center for Biological Diversity were seeking an injunction to halt logging within the 37 occupied California spotted owl territories within the burned area. The Chair of the Yosemite Stanislaus Solutions (YSS) group and President of Sierra Resource Management, Mike Albrecht, worked with local environmental groups and the Forest Service to hammer out a compromise on the Rim Fire Record of Decision. He applauds the Judge's decision.
"It means jobs," says Albrecht, "It means that we will be able to go ahead and harvest over 200 million board feet of salvaged timber. It means a lot of revenue for our community."
Former Stanislaus National Forest Supervisor Susan Skalski signed that Record of Decision at the end of August. It allows for salvage logging on approximately 15,000 acres within the Rim Fire footprint and another 17,000 acres of hazard trees to be removed along roads.
Albrecht says that logging can now move forward starting next year. Currently, the Forest Service is taking bids for the salvage logging.
The environmental groups can appeal the decision. There is no word on a  possible appeal.