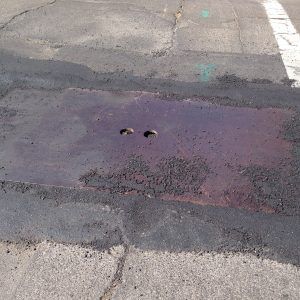 Stewart Street Sink Hole
Sonora, CA — A sinkhole has opened up in the middle of Stewart Street at the Linoberg Street intersection in downtown Sonora.
"The hole in the asphalt is about a foot in diameter," says Sonora Public Works Supervisor Bill Seldon. "It goes about three feet in all directions underneath the asphalt and it appears to be three feet deep, but that could possibly expand once we cut into the asphalt, so we really don't know what we are going to end up with."
A steel plate has been put over the hole to make sure no vehicles or people are injured.
Seldon says, "I'm glad somebody caught it and called the police department, who called us. Someone I'm sure would have dropped a wheel in there or its right next to the crosswalk they could have stepped in it and been injured also."
In order to patch up the hole, Stewart Street will be closed both Wednesday and Thursday between Lyons and Theil Streets. The work will begin at 7 a.m. and run through 2 p.m. each day.