Courtney Fire 35% Contained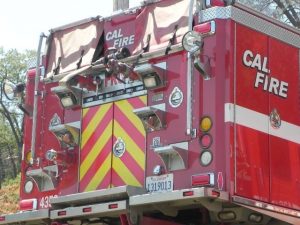 Cal Fire Truck

View Photos
Oakhurst, CA — The toll from the Courtney Fire in Oakhurst south of Yosemite National Park has risen to 71 structures destroyed or damaged. The vegetation fire near Bass Lake is 35% contained and remains at 320 acres.
Firefighters are making progress as some of the hundreds of evacuated residents have returned to their homes. However, 600 residents and nearly 200 structures near the Bass Lake area are still under evacuation orders. Cal Fire reports 33 homes, 28 outbuildings, 13 vehicles, and 4 recreational vehicles have been destroyed. In addition, 4 homes, 6 outbuildings, and 2 vehicles have been damaged.
On scene are 650 firefighters, 100 engines and 11 air resources, 10 dozers and 13 water tenders.
The flames broke out Sunday afternoon on Courtney Lane and Seven Hills Road in Madera County near Highway 49 & 41. What sparked the blaze is under investigation.