TUD Reduces Water Restrictions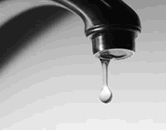 Water

View Photos
Sonora, CA — The Tuolumne Utilities District (TUD) has dropped from Phase III to Phase II Mandatory Water Restrictions.  At today's meeting, the board voted unanimously to drop the mandatory 25% conservation measures placed on its customers and to implement the Phase II restrictions adopted by the State Water Resources Control Board in July. General Manager Tom Scesa noted now that Labor Day has passed, TUD is able to receive water through its agreement with PG & E from Pinecrest Lake allowing for fewer restrictions on customers.
"The supply we have available to us right now has several factors," says Scesa. "PG&E reduced its flow out of Pinecrest, California Division of Wildlife reduced its output requirements out of Lyons Reservoir, and TUD customer conservation was outstanding.  We also made changes in our operations, and along with some light rains in the summer, all that allowed Pinecrest and Lyons to be at much higher elevations, so we are in a good position going into next year."
Scesa says the most notable change for customers in dropping to Phase II conservation will be the restriction of watering outdoors to two times a week.
For more information on the Phase II restrictions, you can click here.