Meadow Fire Nearly 2,600 Acres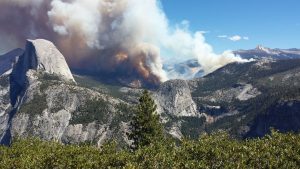 Meadow Fire in Yosemite

View Photos
Yosemite, CA — A fire burning in Yosemite National Park continues to grow in size.
Yosemite National Park officials report that the Meadow Fire has burned 2,582 acres, and there is no containment. It is burning in an isolated area located in Yosemite's back country, behind Half Dome. It is burning within the area known as Little Yosemite Valley, on both sides of the Merced River. All trails in that area are closed.
Asked about whether there is still high growth potential, Yosemite Spokesperson Ashley Mayer says, "We'll have to see what happens. We did get a little bit of rain this morning, and the winds have died down a bit from what we saw yesterday afternoon. So, hopefully that will aid the firefighters in their fight. We'll have to see what the day holds."
Around 100 hikers and backpackers were evacuated from the Little Yosemite Valley area on Sunday, and 85 hikers were evacuated by helicopter from the top of Half Dome, thanks to the CHP, CAL Fire, US Forest Service, and Sequoia Kings Canyon National Park.
Due to the isolated area of the fire, it is being fought mainly by air resources and hot shot crews. There are four Type 1 helicopters, three Type 2 helicopters (smaller), one air attack, three air tankers, and 100 firefighters.
There is currently no containment. The regional South Central Sierra Interagency Management Team will take over operations at 6pm today.
The fire is believed to have been caused by lightning.
A special thanks to community news partners Jen Steventon, Lynne Bruno, Mike McEvoy and Alyson Lee Macon for sending in photos. Pictures can be e-mailed to news@clarkebroadcasting.com.