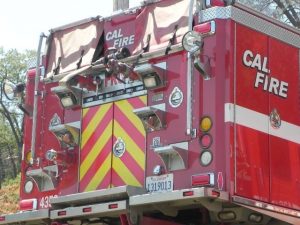 Cal Fire Truck

View Photos
Mariposa County, CA — Cal Fire reports the vegetation fire now titled the "Bridge Fire" by Calf Fire is 50 acres with no containment at this time. The fire is burning on Highway 49 near the Mariposa-Madera County line.
The Mariposa Sheriff's Department has ordered the evacuation of the Ponderosa Basin subdivision. However, there is no word on how many homes are affected. A Red Cross Shelter is located at the New Life Christian Church on Cole Rd.
The flames broke out on Highway 49 near Harris Road and the William Sell Bridge, which is 10 miles from Mariposa.  A section of the highway is closed. Cal Fire reports the flames are moving at fast rate of spread.
Update 2:45 pm: Mariposa Sheriff reports students who attend Woodland Elementary School and live in the evacuation area of Ponderosa Basin subdivision will remain at school.
Update 3:45 pm: The Mariposa Sheriff's Office reports evacuations are in place for homes on Harris Cutoff Road and all of the Ponderosa Basin Area.  Cal Fire reports Highway 49 is closed between Worman Road and Chowchilla Mountain Road.