Jackson Fire 50% Contained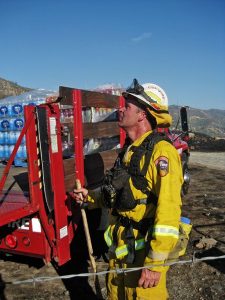 Jackson Fire

View Photos
Sonora, CA — CAL Fire reports this morning that the Jackson Fire is up to 70 acres, and it is now 50% contained.
The fire ignited during the 11 o'clock hour yesterday morning near the Moccasin Point Marina. It burned along both sides of Jacksonville Road, near Highway 49. Several outbuildings were threatened, but none were damaged. The threat the structures has diminished. Fire officials will continue to work towards extinguishing the fire throughout the day. The cause of the fire is under investigation.
A special thanks to community news partners C. Wilkinson, Mike McEvoy, Suzan Stauffer, and Amanda Landrum for sending in photos. They can be e-mailed to news@clarkebroadcasting.com.