Jackson Fire 30% Contained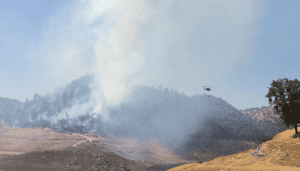 Jacksonville Road Fire

View Photos
Moccasin, CA — Cal Fire reports the Jackson Fire is 30% contained at 60 acres.
Cal Fire Spokesperson Nancy Longmore says, "Crews are getting a handle on the fire. They will remain on scene overnight and there will be a day shift tomorrow."
The vegetation fire broke out at 11:51 this morning at the intersection of Highway 49 and Jacksonville Road near the Moccasin Point Marina. Initially, several structures were threatened.  Cal Fire reports those structures were out buildings and none were damaged.
"You could see that fire was ready to go and had it not been where it is we'd probably still be chasing it because conditions are so dry," says Longmore. She warns, "People need to be extremely careful with any activities outside and keep working on your defensible space. It's still needed."
The CHP had Jacksonville Road closed at River Road starting at 3 pm and forcing motorists to find an alternative route home during the evening commute.  Cal Fire asks that motorist continue to avoid the area.