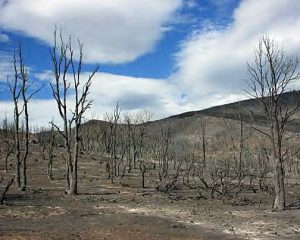 Rim Fire burned trees

View Photos
Sonora, CA — Several environmental groups have filed a joint lawsuit to halt the Rim Fire salvage logging in the Stanislaus National Forest.  The lawsuit was filed this afternoon in a Fresno federal court and calls for an injunction to stop the implementation of the Rim Fire Recovery Decision.  Stanislaus National Forest Supervisor Susan Skalski signed that Record of Decision at the end of August. It allows for salvage logging on approximately 15,000 acres within the Rim Fire footprint and another 17,000 acres of hazard trees to be removed along roads.
The complaint issued by the Earth Island Institute, the Center for Biological Diversity, and the California Chaparral Institute seeks an injunction to halt logging within the 37 occupied California spotted owl territories within the burned area.   That would prevent logging in about 40% of the Rim Fire areas already approved by the decision for tree removal.
The lawsuit states a 2014 Forest Survey found "At least 37 occupied owl sites exist within the Rim fire area – 32 pairs and 5 singles." The complaint says the survey shows "higher than average annual occupancy levels in unburned old forest."
In addition, the lawsuit claims that the Rim fire Final Environmental Impact Survey (EIS) did not do the proper surveys.  The complaint alleges that the Rim Fire Recovery Decision violates the National Environmental Policy Act, the National Forest Management Act, and the Administrative Procedure Act.