"Jackson Fire" Up To 60 Acres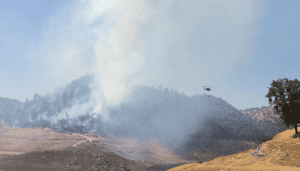 Jacksonville Road Fire

View Photos
Moccasin, CA — The fire burning in the area of the Moccasin Marina is up to 60 acres and there is still no containment.
There are 19 engines on scene, nine hand crews, four air tankers, five water tenders, two helicopters, and three dozers. CAL Fire Captain Mike Spear says there have been two minor injuries to firefighters. The fire is burning on both sides of Jacksonville Road, and officials have named it the "Jackson Fire."
Jacksonville Road is closed at River Road, so you should avoid the area. Firefighters are working to protect several structures.
A special thanks to community news partner Mike McEvoy for sending in photos. Pictures can be e-mailed to news@clarkebroadcasting.com.