Acreage Jumps In Moccasin Vegetation Fire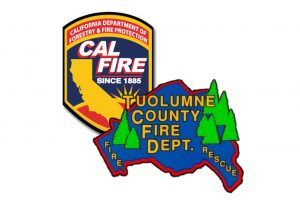 Cal Fire - Tuolumne County Fire Department Logo

View Photos
Moccasin, CA — Cal Fire reports the fire has spread from 8 to 20 – 30 acres and the flames are now on both sides of Jacksonville Road. An additional five engines have been called to the scene as crews continue to battle the blaze from the ground and air. A maintenance building in the Moccasin Yard is threatened.
Photos can be emailed to news@clarkebroadcasting.com.
Update 1 PM: The CHP reports a section of Jacksonville Road near Moccasin Creek is closed to traffic.