County Approves Final Budget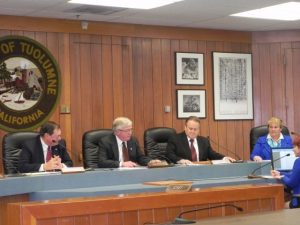 Tuolumne County Board of Supervisors

View Photos
Sonora, CA — The Tuolumne County Supervisors put some final touches on the 2014-15 budget.
Overall spending this fiscal year will be around $168 million. This year's budget is up by $18.4 million, primarily due to the construction of the Juvenile Detention Facility.  The final budget was approved 5-0.
The following items below were added to the budget at yesterday's meeting. Many will be funded with "one-time" money. The term is used to refer to funding sources that are not guaranteed to be available in recurring years.
General Fund Adjustments
Sustainable Forest Action Coalition – $1,000
Tuolumne County Arts Alliance – $45,000
Tuolumne County Historical Society – $5,700
Code Compliance Activities – $40,000 (net)
Match donations for Sheriff's K-9 – $6,000
Mother Lode Fairgrounds – $7,500
Capital
Jail Security (Padded) Cell Repair – $20,000
Main Library Stucco Repair – $33,000
Admin. Center Compressor Replacement – $20,000
Twain Harte Pool Fencing & Landscaping – $17,500
Courthouse Park Rehabilitation (addt'l alloc.) – $18,000
Rocca Park Gazebo Roof Replacement – $15,000
Law & Justice Center Drive Infrastructure Work – $970,085         
Personnel
Deputy AG Commissioner
Animal Control Officer
Plans Examiner II
Fire Inspector II to Sr. Fire Inspector (promotion)
Sheriff's Deputy to Corporal (conversion)
Sheriff's Deputy to Sergeant (conversion)