Cabezut Fire Under Investigation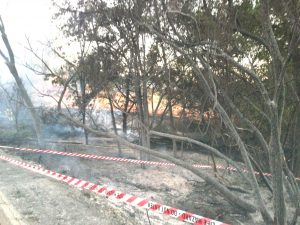 Fire Near Cabezut
Sonora, CA — Fire officials have been investigating what sparked a 2-3 acre vegetation fire that burned in the area of Cabezut Road.
When the first responders arrived on scene, shortly after 6pm on Monday, it was burning on both sides of Cabezut Road, near the Greenley Road intersection. It was a nervous time for many, as it burned near apartments and businesses.
"There were multiple threats, but no structures were damaged," says Fire Captain Dean Wimberly. Our air resources were in here very quickly, and we were able to keep it off the buildings."
Click on the link in the upper left hand box to find some video of the fire provided by Rickee Hill.
A special thanks as well to community news partners Michele Hurger, Carrieann Butler and Lisa Mayo for sending in photos of the fire. Pictures and video can be e-mailed to news@clarkebroadcasting.com.