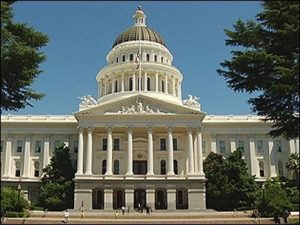 California Statehouse

View Photos
Sacramento, CA — California lawmakers closed out the legislative session without voting a proposed incentives package designed to entice Tesla Motors to build its battery factory in the state.
The Palo Alto based company has been looking at California, Nevada, Texas, Arizona and New Mexico as the site for its $5-billion giga-factory. Various media outlets recently reported that Stockton is a favorite to land the factory, if it is built in California.
Republican Senator Ted Gaines and Democratic Senator Darrell Steinberg have been calling for lawmakers to pass an incentive package for the company, which would include several CEQA waivers.
Senator Gaines says despite the legislature's inaction, he is proposed to call for a special session on the topic later this year, but only if Tesla indicates it is serious about choosing California.
"California's effort is not to blame," says Senator Gaines. "When Tesla is ready to come to the table, we are ready to listen and will do all we can to bring the battery factory to our state."
It's noted that the Governor's Office of Business and Economic Development will continue to reach out to Tesla officials over the coming months, including the company's CEO Elon Musk.