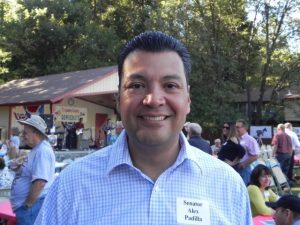 Alex Padilla In Twain Harte

View Photos
Sonora, CA — The California Assembly passed legislation that would ban grocery stores from giving out plastic bags.
The bill now moves onto the Senate for a vote. It would need to be approved by this weekend, as the legislative session comes to a close on Sunday.
SB 270, introduced by Democratic Senator Alex Padilla, would prohibit grocery stores and pharmacies from giving out single use plastic bags, effective July 1st, 2015. Then beginning on July 1st, 2016, it would take effect for convenience stores and liquor stores.
The plastics industry has been fiercely opposed to the legislation, citing the impact it would have on jobs in the state. Proponents though argue that several cities and counties up and down the state already have local bans in place.  The bill would provide up to $2 million in state loans for businesses that want to transition to the manufacturing of reusable bags.