Salvage Logging Could Start In Two Weeks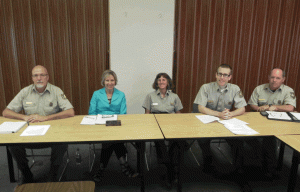 Discussing Rim Fire Recovery

View Photos
Sonora, CA — This afternoon Stanislaus National Forest Supervisor Susan Skalski says she will formally sign the Record of Decision for the Rim Fire Recovery project.
It calls for salvage logging on approximately 10% of the area burned by the Rim Fire in the Stanislaus National Forest. The percentage of land is small, but Skalski points out that it is partly due to the available infrastructure in the area that can harvest the logs.
"It certainly was a big part of the decision, because it doesn't make sense to put a number out there that the local infrastructure can't even process," she said. "So, we're really focusing on  what our high priority areas are for treatment, and we want to make sure they sell, and the work gets done on the ground."
It calculates to 210 million board ft.
The Forest Service received approximately 5,500 comments on the plan. The initial timber sales are expected to go out for bid next Wednesday, and contracts would then be awarded seven days later.
The plan calls for leaving at least 4-6 snag trees per acre. The salvage logging will start just over a year after the Rim Fire ignited. Most of the salvage logging on private land is already nearing completion.
Skalski added that the current timeline calls for reforestation to likely start in the Fall.  Those items though will be overseen by her successor, Jeanne Higgins. Skalski will be retiring this coming Tuesday.