CHP Releases Fatal Crash Details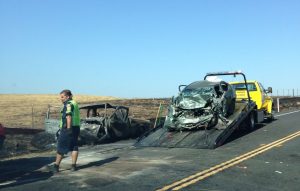 Highway 108 Crash Nears Lovers Leap

View Photos
The fatal victim in yesterday's crash on Highway 108 near Lovers Leap was an 81-year-old from Modesto.
The man has not been identified, pending notification of family members. The man was driving westbound on Highway 108 when his vehicle was hit head-on by a car driven by 22-year-old Rafi Mitri of Riverbank. The CHP reports Mitri was attempting to pass another vehicle, over the double yellow lines, and did not see the Modesto man's vehicle until it was too late.
The fatal victim was pulled out of the vehicle by a passerby, shortly before the vehicle burst into flames, and caused a 1 ½ acre vegetation fire. However, he had succumbed to his injuries by the time the first responders were able to arrive on scene.
Mitri was flown to Memorial Medical Center in Modesto to treat major injuries. His only passenger, 22-year-old Amanda McSweeny of Oakdale also suffered major injuries, and was flown to Doctors Medical Center in Modesto.
The only passenger in the Modesto man's vehicle, 71-year-old Richard Martinez, also reportedly had major injuries. It is not immediately clear to which hospital he was transported.
The crash remains under investigation.