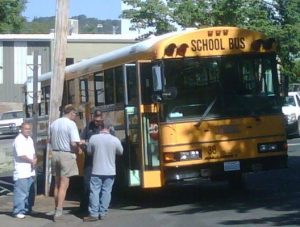 Sonora School Bus

View Photos
Sonora, CA — The Tuolumne County CHP unit warns motorists they will see more flashing lights on buses this school year; that means stop.
Officer Jamie Pullen says that because of the winding roads in the county, school bus drivers do not always use their flashing red lights when making stops, opting instead to pull over and allowed traffic to pass. This practice has changed with the start of the new school year.
"We're really pushing to use the bus as much as possible to shield and protect the kids," says Pullen. "Per law they [bus drivers] are supposed to be using their red lights on every stop. We're going to lean more towards that this school year and make the buses stop in the roadway and use their red lights so all traffic has to stop for loading and unloading."
During this first week of school, officers have been out in force stopping motorists who fail to yield when buses red lights are flashing.
"You'll see us way more frequently this school year, says Officer Nick Norton. "We won't be at the same school all the time. You might see us at Columbia Elementary one day and then we might be at Soulsbyville. You're just never going to know until it's too late, so make sure you pay attention."
It can be costly if you do not heed this warning. Pullen says, "A first offense is a $150 fine and it goes up from there. Four offenses will cost you a grand."