Forward Rate Stopped In Lime Kiln Fire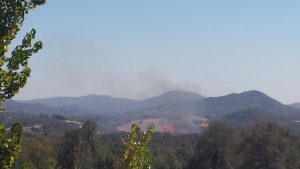 Lime Kiln Road Fire
Sonora, CA — Firefighters and Columbia Air attack are on scene of a car accident that ignited a three acre vegetation fire. The forward rate of spread has been stopped, one structure was threatened but is not threatened any more.
CHP reported that a Blue Nissan Maxima went off the road for unknown reasons and the engine was on fire. The fire spread into the grass at Lime Kiln Road near Jacobs Road in the area of Mountain Springs Golf Course. Air Attack and Calfire have responded Jacobs Road is closed. A tow truck has been requested for the vehicle.
Flames from the fire could be seen from the WalMart parking lot. A special thanks to community news partner Forrest Armstrong-Cate for sending in photos of the fire. Pictures can be e-mailed to news@clarkebroadcasting.com.