California Raging Wildfires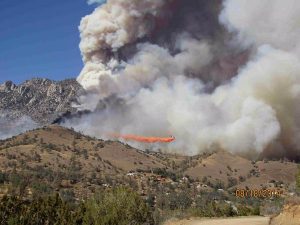 Way Fire In Kern County

View Photos
There are a couple of very large fires burning south of the Mother Lode.
In Oakhurst, in Madera County, the Junction Fire has burned 1,200 acres, and many neighborhoods are considered threatened. The fire is near the Highway 49 and Highway 41 Junction. Around 500 firefighters are on scene.
The Associated Press reports that evacuation orders have been sent to 13,000 phone numbers. Madera County Sheriff John Anderson issued the evacuation orders last night and declared a local state of emergency in Madera County. Four hotels in Oakhurst, about 16 miles away from an entrance to Yosemite, were evacuated. The fire was burning near a propane business with 30,000 gallon tanks on the site.
Down in Kern County, the Way Fire in the Sequoia National Forest has burned 3,000 acres, and there are also local evacuations in place. There has been some drift smoke reported across the region, from the fires.