Sonora Water Project To Cause Traffic Delays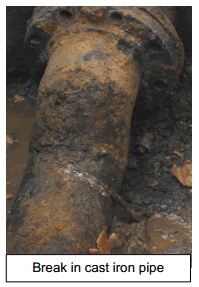 Break In Cast Iron Water Pipe

View Photos
Sonora, CA — A major water project will get underway this coming weekend in downtown Sonora.
T.U.D. will replace a water pipeline along South Washington Street, between Church Street and Hospital Road. In order to avoid busy traffic times, the work will run Sunday through Friday, between the hours of 8pm to 6am. The work will continue all the way through November 14.
The District has hired Njirich and Sons, Inc. to oversee the roughly $800,000 project. The company will be replacing about 3,000 feet of 6 inch cast iron pipe, with a new 10 inch PVC pipe. The current infrastructure has experienced several water line breaks over recent years. It is estimated to be 75-100 years old.
T.U.D. reports that there will be traffic delays, and possible service interruptions, at various times during the project.