Vandalism Closes Sonora Pool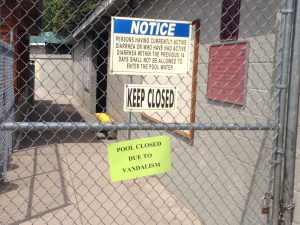 Sonora Pool Closed

View Photos
Sonora, CA — An act of vandalism has closed the Sonora High School Swimming pool. Tuolumne County Recreation Supervisor, Eric Aitken says, "Over the weekend fecal matter was found distributed in the pool." As per the health code the pool will be super chlorinated for a full 24 hours. The pool was closed on Sunday and remains closed today.
Supervisor Aithen says he will hear from those responsible for the pool maintenance when the Sonora pool has been fully treated. The pool could open as early as tomorrow. Super chlorination (also called shock chlorination) of a pool for 24 hours is a standard protocol set by the Center for Disease Control.
Supervisor Aitken noted it was not likely that an animal was responsible for the incident "due to a plastic bag being involved." He said a similar incident delayed the opening of the Columbia Elementary Pool in June.