Red Flag Warning For Mother Lode & Stanislaus Forest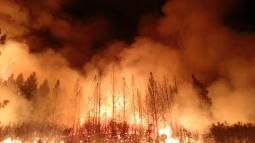 Forest Fire

View Photos
A Red Flag Warning is in effect until 11 AM Tuesday for the Stanislaus National Forest.
A low pressure system off of the northern California coast is moving inland. This type of weather pattern has historically brought widespread lightning to northern California.
Thunderstorms are expected to form over the Sierra Nevada. Thunderstorm activity should decrease late Tuesday morning.
Expect isolated to scattered thunderstorms with abundant lightning. Dry strikes are possible, especially today.
Gusty, erratic winds are likely up to 40 mph.
There is a strong potential for lightning induced fires. Thunderstorms will also complicate firefighting efforts for current wildfires.