Drought Emergency Extended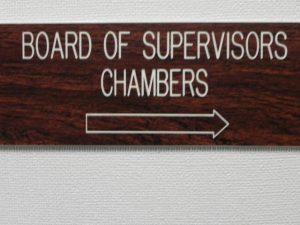 Tuolumne County Board of Supervisors Sign

View Photos
Sonora, CA — The Tuolumne County Supervisors have extended the local drought emergency. The vote was unanimous after hearing several reasons for the extension from county officials, staff and others.
The Groveland Community Services District, which receives its water from the city and county of San Francisco, is being forced to install a new filtration system.  Due to the drought, a new water source is needed; otherwise, the District would run short 580,000 gallons of water a day. The new water source is not covered under the permit. The District has put a $200,000 deposit towards the $1.7 million system, but needs additional funding.
District General Manager John Sterling says they have looked at other options to raise the funds, but they are already facing a deficit. "The District put in for a drought rate increase as revenue has declined significantly as conservation efforts have moved forward.  The period for March through June, compared to last year, revenue was down $71,000."
The USDA has approved a $500,000 grant for the project, but Sterling says to get that money additional grant funding is required. The State of Emergency designation will help when applying for those grants.