El Portal Fire Full Containment Next Week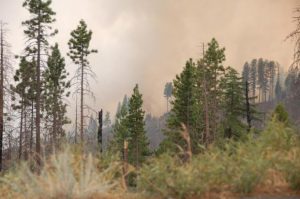 El Portal Fire

View Photos
Yosemite, CA — The El Portal Fire is up to 4,518 acres and its 78% contained.
The National Park Service projects there will be full containment by Friday, August 8. Some growth is still expected to the north in the direction of Highway 120. When you look at the numbers, 985 acres have burned in Yosemite National Park, and 3,542 acres in the Stanislaus National Forest. The cause of the fire is under investigation.
The Nearby Dark Hole Fire in Yosemite is 727 acres and 39% contained. There is access to Yosemite Valley this weekend if coming in on Highway 120, Highway 41 and Highway 140.