EL Portal Fire Moving North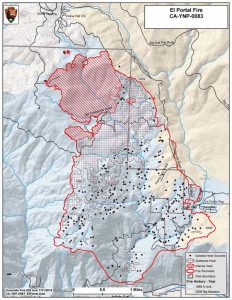 El Portal Fire Heat Map

View Photos
Yosemite, CA — A new heat map shows where the El Portal Fire is most active.
The fire is putting off the most heat in the northwest corner. There are no threatened structures in that area.. Park Spokesperson Ashley Mayer says the El Portal Fire is around 4,000 acres and is 34% contained. The Big Oak Flat Road is back open, so there is access to both Yosemite Valley and Tioga Pass if entering via the Highway 120 entrance. Over 1,000 firefighters are assigned to the incident.
The operations are being led by a Type 1 Incident Management Team. The fire is burning in both Yosemite National Park and the Stanislaus National Forest.